What kind of affair was dinner at the Thursday's Club? Perhaps the attendance books can give us the best impression. Below are two somewhat 'typical' dinners from 1766. As you can see, meals were heavy on the meat, and light on the vegetables.
Note also the number of members and the number of "visitors." These meals occurred right after the club's annual business meeting (held the 4th Thursday of every July) when a ton or rules were passed concerning "strangers" dining at the club. Here are some of the resolutions from that meeting:
--"Ordered that no strangers except such as are invited or introduced by the president, be admitted, without leave being obtained from the president or in his absence, from the majority of the members present."
-- "Ordered that no member ask for the introduction of more than two strangers on any one day."
-- "Ordered that no stranger be introduced into the room, till it be signified to him that leave hath been obtained for his admission."
-- "Ordered that the treasurer be desired to enter in the book the name of each stranger and that of the member who introduced him."
-- "Ordered that the treasurer be desired to read aloud each day, as soon after dinner as conveniently may be, the names of the company present as entered in his book."
-- "Ordered that these resolutions be transcribed ... and a copy of them be hung up ... outside the room in which the company meet every Thursday by half an hour past two."
Why all these new rules? Part of the reason is that the "old guard" who had founded the club in the 1740s, were all dying out by the 1760s. With all this turnover, on some weeks, the club would have more visitors than members.
Here's another menu from two years later, one of many, many, many venison donations.
Venison is served three ways here: as a neck, as a haunch, and in pasty form. What was a venison pasty? Well -- sort of like a mini-pie. They became extremely popular beginning in the 17th century; Samuel Pepys (probably one of the most well-known London foodies) records eating it 43 times in his famous diary. Considering that eleven people showed up to this dinner, however, I highly doubt that it showed up as one measly single serving.
The treasurer notes that the donor's health was "drank in Claret." This happens almost every time a gift is received.
Coming up next: Did the Thursday's Club get any food gifts that they didn't like? Were they forced to eat it for decades out of propriety? Did they grow so exasperated that they ended up kicking him out of the club?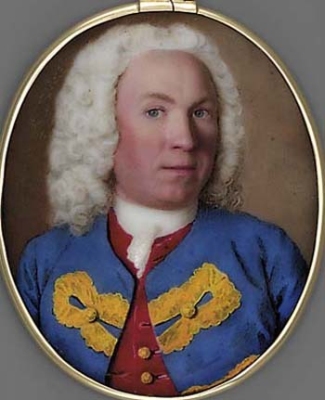 Yes, dear readers. And I'm afraid that this dude is the culprit. More on him next time.